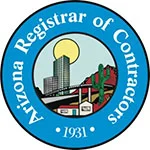 One of the most important things you can do when hiring someone to do work at your home is to check to see if they are licensed with the Registrar of Contractors (ROC). Being licensed means you have proven you are proficient in your trade and want to make sure your customer has the best experience. The ROC will protect homeowners and business owners against poor contracting work with the Recovery Fund.
There are exemptions for "handymen", but any work dealing with electrical and/or plumbing MUST be done by a licensed contractor. Some say that if the work is under $1000, the contractor doesn't have to be licensed. Well, that $100 you paid a handyman to install the outlet could cost you thousands if that outlet is installed incorrectly and sparks a fire. Your insurance could even deny the claim since the work was not done by a licensed contractor. Same goes for plumbing. Yes, your friend can solder a pipe for you, but what happens when that pipe bursts and floods your home? Wouldn't you rather have the backing of the ROC and the contractor's insurance company than making your friend pay for the damages?
It's very easy to check a contractor's license. Simply go to www.roc.az.gov/contractor-search and enter the name of the business. This will show you the business and all licenses they hold, and their status. A "C" before the license type means it's a commercial only license, an "R" means it's residential only, where as a "CR" means they are licensed to do work in both commercial and residential settings. If you see that the contractor's license has been suspended, you can call the ROC for more details, but know that the ROC will not back the work done by a contractor with a suspended or canceled license.
Always check on your contractor before you sign the contract or allow them to do work for you! Don't write your check until you check!