The Top Provider of NuDrain - NuFlow Pipe Lining in Phoenix, AZ, and Surrounding Areas
Can this be used in all sewer lines?

NuFlow Pipe Lining NuDrain technology is a patented process using a structural epoxy liner that essentially creates a new pipe within your existing pipe.
Click the button below to learn about our drain division!

NuFlow was founded in Canada in 1998, focusing on trenchless drain and sewer lining. In 2001, NuFlow began contracting their state of the art technology to plumbing companies around the world. In 2010, Peerless Plumbing became the first NuFlow Pipe Lining Licensed Contractor in the state of Arizona.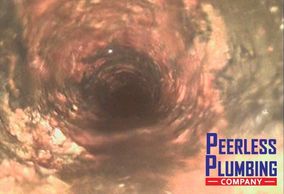 Yes! From small 2" residential sewer lines to large-diameter industrial sewer lines, we have used NuFlow Pipe Lining on various plumbing systems.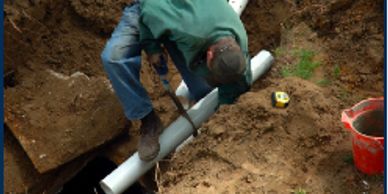 Why would you choose to remove your flooring, cut through your foundation, dig 2-3 feet down and replace the existing sewer line? Well, there's really no reason to. NuDrain uses existing access points on the roof and through ground-level cleanouts outside of the home. We can pull the liner into place with little disruption to your daily routine. Did we mention that NuDrain is significantly more cost-effective?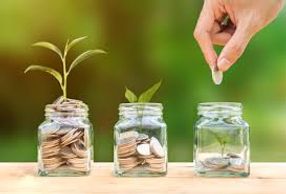 The cost varies from pipe to pipe. Small, large, access points, length of pipe, condition of the pipe, it all is taken into consideration when we provide your FREE estimate for sewer lining. Other plumbers will quote you to dig up and replace the pipe, but what they fail to tell you, is that you are responsible for replacing the flooring, redoing the landscaping, and the endless dust that will forever hide in your home. With trenchless sewer repair, you don't have to worry about new flooring or landscaping, and because we are installing from outside the building, no dust!
How do I know if NuDrain is right for my sewer lines?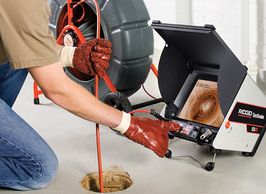 Simple! Give us a call for a FREE no obligation estimate. We will come to your home or business and inspect your sewer lines at no cost to you. No hard sales tactics, no high pressure salesmen, just the truth. We won't try to sell you something you don't need.
Ever wonder how we can repair your sewer and drain lines without digging? Here's how we do it!
Video Before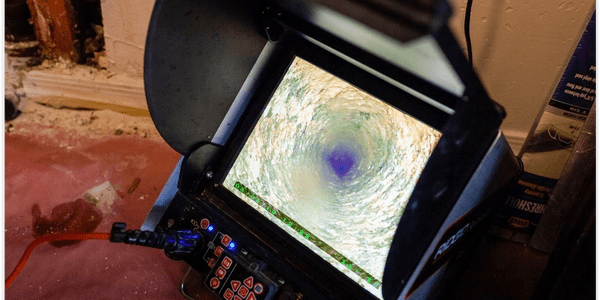 Using specialized cameras, we can see what your sewer lines hold in store. We are able to see roots, cracks, breaks, scale and buildup.
Video After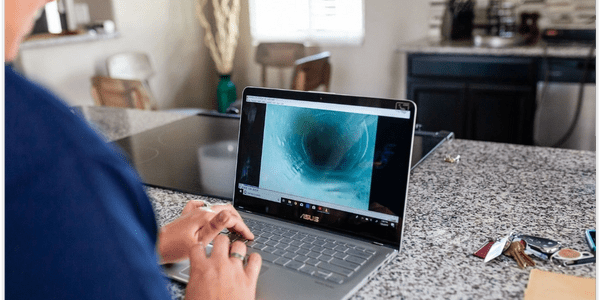 We inspect all NuDrain liners after installation to ensure a seamless install, and that all issues found before lining have been addressed.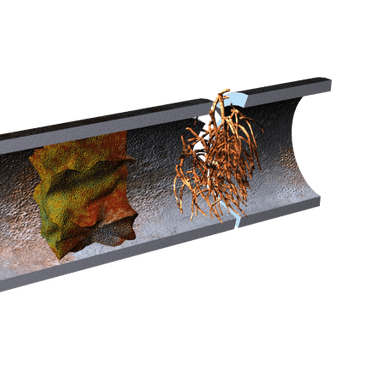 Over time, your sewer lines can become clogged and obstructed. Sewer lines can break down, rust, erode, and crack, leaving the ground surrounding the pipe vulnerable, as well as the pipe itself. External factors, such as tree roots, can infiltrate the pipe, trapping even more debris. Much like a kitchen strainer, small items and liquid may still flow, but larger items will get stuck. After a while, your drain will slow, and may start to back up.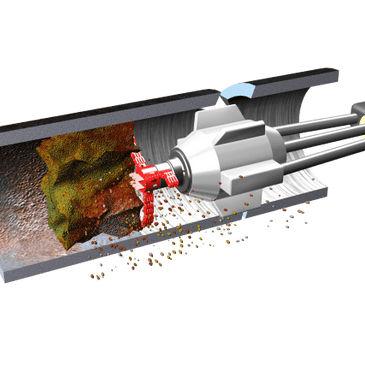 That's where Peerless Plumbing Company and Nudrain Phoenix comes in. First, we expose existing access points or create access points. The existing pipe system is inspected for integrity and breaks in pipe using a drain camera. Corrosion roots and missing sections in the pipe are located. Temporary bypass drain piping provisions are installed as necessary. Our state-of-the-art equipment can power through the debris, freeing up the pipe. Depending on the debris, we may use a rotary type tool as shown, or high-pressure water to clear the pipe. Once the pipe has been cleared, our highly trained technicians will perform a sewer camera inspection of the pipe to determine the next course of action. We can pinpoint where in the pipe the weakness, cracks, or erosion have occurred.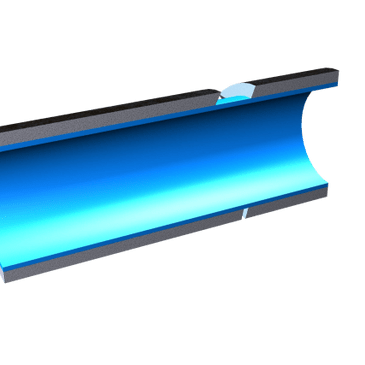 Once your sewer pipe is clean, and we have inspected the line, we begin the lining process. An epoxy-saturated felt liner with an internal bladder is pulled through the cleaned pipe system, using the existing access points. The bladder is inflated and the epoxy is pushed against your existing pipe. The epoxy will cure into an extremely hard material, covering any cracks and holes in your pipe.
Cast Iron Before Descaling
Quite a bit of root intrusion and buildup.
Cast Iron After Descaling
Check out those cracks that were covered in roots and scale (11 and 40 seconds)!
Cast Iron After Lining
Nothing like a smooth NuDrain liner.
Saves Money & Time
Completing pipe repairs using trenchless technology is less expensive because structural modification, such as digging up the ground or taking out floors/walls, is not required. Often, no digging equipment is necessary saving that cost and time. With less physical disruption and less clean-up effort, there is less labor required. Even with less labor needed, the pipe repair is completed quicker, which also reduces the number of labor hours. If needed there we also have finance options available.
Less Disruptive & Environmentally Friendly
No digging-up of your ground or tearing-up of your walls and floors not only reduces any environmental damage, it dramatically reduces the time and associated costs! These trenchless techniques are also the least costly option as well as the least disruptive. Less hassle for you and your tenants occupying the premises.
Demolition is a thing of the past when it comes to repairing sewer lines.
Call Peerless Plumbing Company and Nudrain Phoenix today at (602) 265-5508 or fill out our online form to schedule an appointment.
Licensed - Bonded - Insured
Plumbing ROC CR-37 No. 176988
Pipe Restoration ROC CR-5 No. 250050
Drywall ROC CR-10 No. 184933
Peerless Plumbing Company and Nudrain Phoenix offers CIPP pipe lining and more in: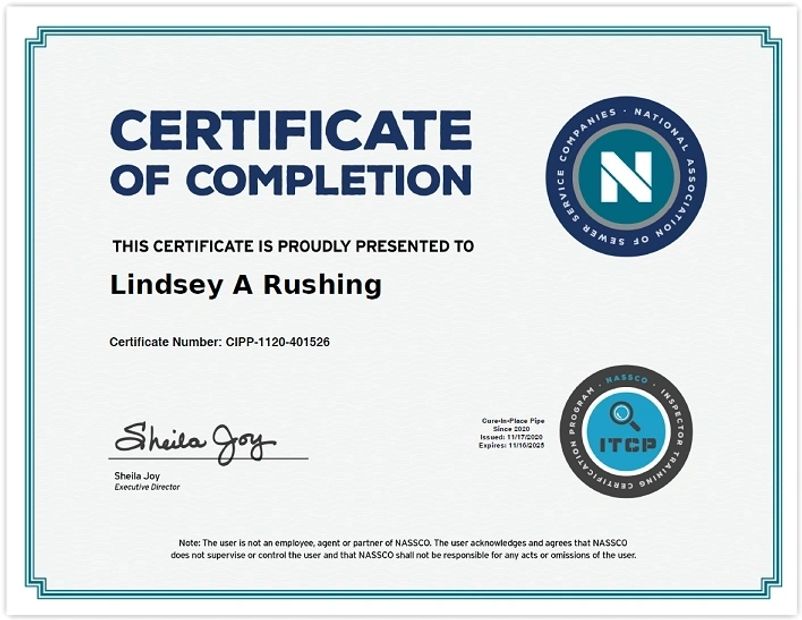 NASSCO
NASSCO's Inspector Training and Certification Program (ITCP) is a standard national training and certification program that provides field construction professionals (i.e. consulting and municipal engineers, contractors) with comprehensive learning and tools to understand and inspect trenchless pipeline renewal technology.
Is your drain specialist certified?
Not only is Peerless Plumbing a member of the National Association of Sewer Service Companies, but they have also gone through training to become a cured-in-place pipe lining inspector.
Always Learning
Trenchless technology has come a long way, and Peerless Plumbing is committed to staying up to date on the latest technologies.
Frequently Asked Questions
NuDrain pipe lining is a flexible epoxy solution that is sprayed into existing sewer pipes. Once inside, it forms a protective barrier that restores damaged pipes and improves flow.
NuDrain installation is an excellent option for many sewer systems in the Phoenix metro area. Our team can assess your unique situation and make recommendations to fit your needs.
Cured-in-place pipe lining is a method of restoring older pipes without digging trenches. CIPP pipe lining utilizes advanced chemical engineering to restore the existing lining of sewer pipes for better flow. As a trenchless contractor in Phoenix, AZ, and the surrounding areas, we take pride in specializing in CIPP lining solutions.
While some sewer issues do require the digging of trenches, many can be solved using minimally invasive techniques. Among the most popular is the use of trenchless pipe lining solutions that can directly repair and restore existing pipes that have sustained damage.
NuDrain pipe lining solutions can help if you've experienced cracked or corroding pipes. Our sewer pipe lining experts in Phoenix can inspect your system to determine whether NuDrain is a good fit for your unique situation.