The Trusted Provider of Drain Cleaning in Scottsdale, AZ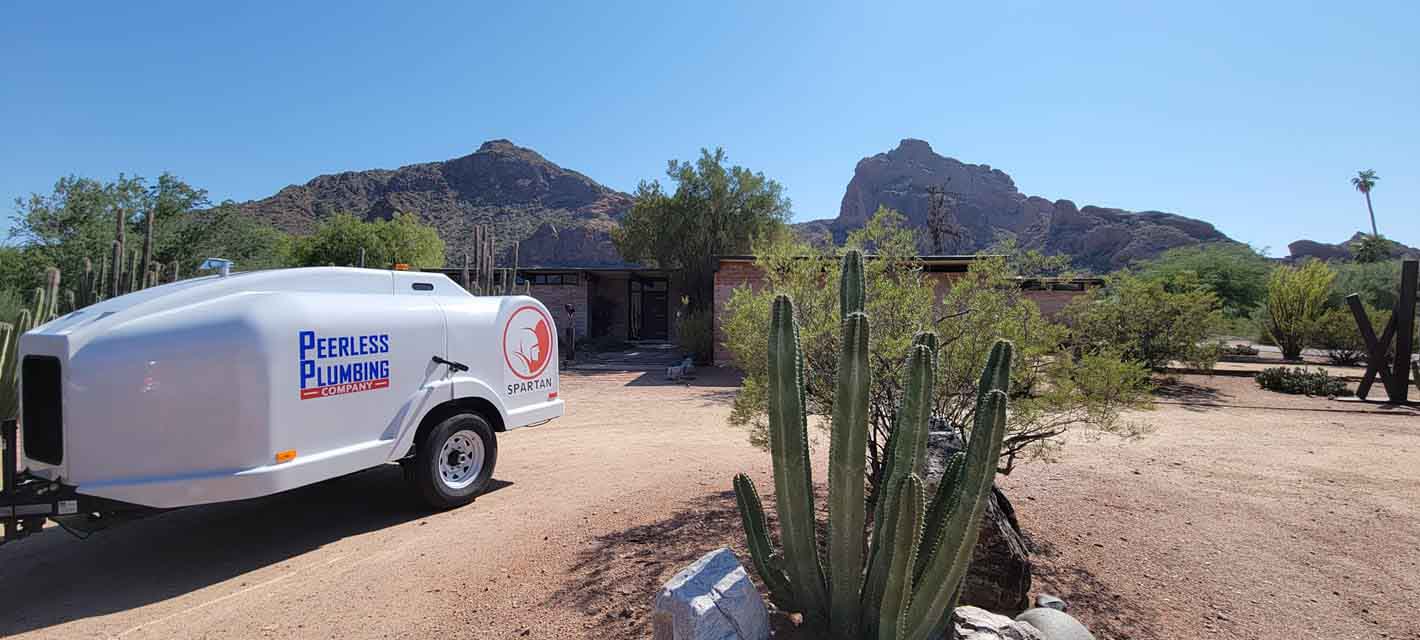 A clogged drain is only going to get worse, so it's important to take action and contact Peerless Plumbing Company and Nudrain Phoenix right away. We specialize in providing the latest in quality clearing services. Rest assured that our team of experienced plumbers can tackle tough jobs without even breaking out a shovel.
The drain cleaning process first involves inspecting your pipes to determine what is causing the issue. This is done using the latest in video line inspection technology. A scope with a camera attached is sent into your drain and through your pipes to get an inside look at your pipe linings.
From there, solutions like drain snaking can be implemented to remove stubborn clogs and clean away debris, leaving you with clean, free-flowing sewer and plumbing pipes. If a drain is corroded or damaged, we can often fix this issue using products like NuDrain to restore and refresh the insides of your plumbing pipes.
Common Causes of Clog Issues
Drains and pipes can require drain cleaning in Scottsdale, AZ, for many reasons, including:
Allowing a drain clog to linger is only going to make the problem worse. As more pressure gets put on a clogged pipe, the potential for damage and flooding goes up dramatically. This can lead to damage to your home, and a sewer backup can even put your health in jeopardy. At the first sign of an issue, reach out to our drain cleaning company. Our team will do whatever it takes to address the problem promptly.
The Risks of DIY & Chemical Drain Cleaners
While it may be tempting to use those retail drain cleaning products on a suspected clog, these options can sometimes do more harm than good. Harsh chemical agents in these types of products may eat away at your drain's lining, potentially adding to the problem. In time, you may be looking at more costly repairs and replacements, something that you could have avoided if you simply relied on professional drain cleaning services.
On top of that, these chemicals can be harmful to your health. Inhaling the fumes from certain chemical cleaning agents may lead to respiratory difficulties, and if these chemicals splash back on your skin or get in your eyes, you may be in some serious trouble. It is best to consult a trenchless contractor before anything else.
What Are Signs That Your Drain May Be Clogged?
If you're wondering whether you're dealing with a drain clog or something else, consider the following common signs:
Why Choose Us For Drain Cleaning?
Peerless Plumbing Company and Nudrain Phoenix has been providing expert drain cleaning and repair services in the Scottsdale area since 2007. Our professionals understand that you can't wait when facing a plumbing emergency, so we respond fast with solutions that take into consideration your budget and your wallet. We also specialize in:
Schedule Your Drain Cleaning Today
Don't wait until clogged drains become a bigger nightmare – contact Peerless Plumbing Company and Nudrain Phoenix right away. Call us or fill out the form to schedule an appointment. We look forward to working with you. We serve the entire state of Arizona, including: