Top-Quality Trenchless Sewer Repair in Mesa, AZ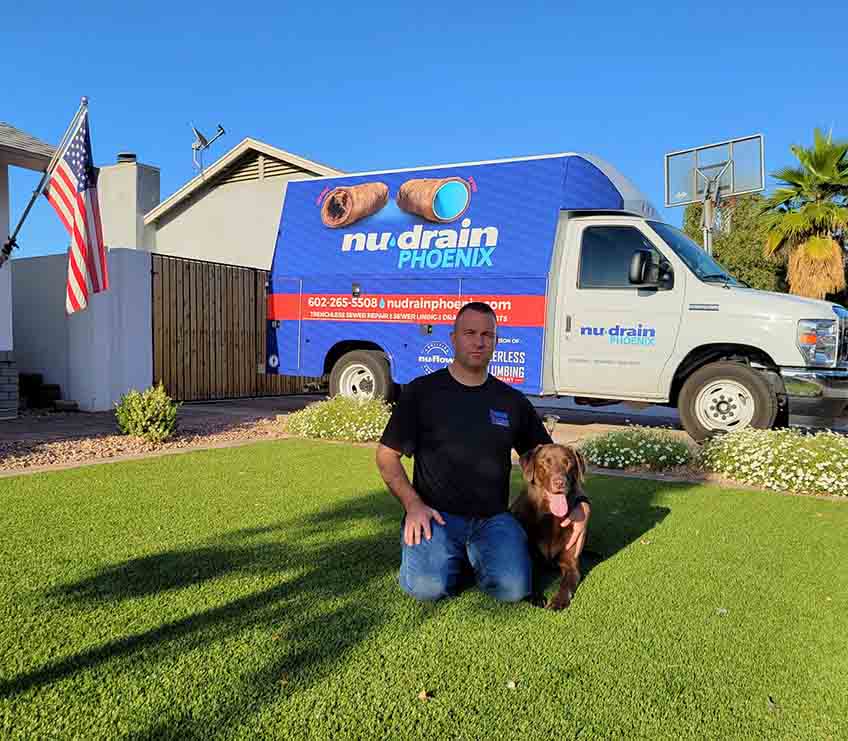 Peerless Plumbing Company is a trenchless contractor in Mesa, AZ, that is proud to serve the entire metro area. We specialize in tough sewer repair, trenchless sewer inspection procedures and drain replacement services to ensure that every plumbing system in the Mesa community is as smooth-flowing as can be.
The Importance of Trenchless Sewer Repair
Keeping your sewer system in tip-top shape is of prime importance. Not only does it drain wastewater away from your property, but it also serves to keep areas clean and hygienic. A malfunctioning sewer system can lead to leaks and flooding, but it can also create health hazards by spreading bacteria.
This is why it's vital to call an expert to have routine pipe inspections performed at the first sign of trouble and have trenchless pipe lining procedures as needed. At Peerless Plumbing Company, we specialize in fast response times and trenchless technology, including NuDrain, that allows our team to tackle tough repair jobs with ease.
Benefits of Trenchless Sewer Repair and Replacement
Traditional sewer repairs often entail a rather destructive process because of the heavy excavation they require. While most of the resulting mess can be cleaned up, the process can take a long time and disrupt daily home routines and businesses for days.
Trenchless sewer line repair methods solve these issues by allowing access to your sewer pipes without excavation. Trenchless technology involves specialized equipment that can enter and address your entire sewer system from one or two drain entry points. This allows repairs to be performed faster and in a much less invasive way, which means you can get back to enjoying your daily routines sooner.
Signs You Need Trenchless Sewer Repair
While sewer can sometimes spring up out of nowhere, there are certainly signs you can watch out for that signal if issues are developing. Below are some of the most common signs of sewer trouble.
If you experience any of the following, you're encouraged to contact Peerless Plumbing Company immediately:
Leaks or flooding
Water pressure issues
Water pooling around your foundation
Bad odors coming from your sewer system
The Trenchless Sewer Repair Process
When you contact Peerless Plumbing Company for a trenchless pipe repair procedure, our expert team will provide an in-depth consultation to determine what's going on with your sewer system. We use the latest technology to effortlessly inspect and accurately evaluate drain issues.
Your drain lining and pipes are checked using video inspection equipment that checks deep into your pipes to pinpoint the exact location of trouble spots. From there, our team can lay out your options so we can make the necessary repairs or replacement of pipes when necessary. Virtually all of our work can be done using trenchless technology that takes advantage of lateral entry to avoid digging and disrupting your home or business.
Contact Us For Trenchless Sewer Repairs
To learn more about how you can enjoy the benefits of trenchless sewer repair in Mesa, AZ, and to schedule service, contact our team Peerless Plumbing Company. We'll be happy to help solve your residential or commercial sewer pipe concerns!