The Expert in Trenchless Sewer Repair in Phoenix, AZ and the Surrounding Areas
If you have sewer-related concerns, a trenchless contractor in Phoenix, AZ, and nearby areas from Peerless Plumbing Company and Nudrain Phoenix has affordable solutions that won't sacrifice your landscape. We specialize in an excavation-free approach to sewer repair that restores residential and commercial sewer lines with little disruption and consistently reliable results. We serve the entire state of Arizona, including:
The first licensed NuFlow contractor in Arizona, we are a trusted trenchless company that takes immense pride in quality workmanship. We treat our clients right with A+ service that includes fair, honest pricing and a commitment to 100% satisfaction at all times.
Importance of Trenchless Sewer Repair
Sewer lines age over time. The result is often rust, corrosion, and conditions just right for the development of cracks and other flaws. Trenchless sewer repair in Phoenix, AZ, and neighboring areas is important because it's a simple, effective, and highly efficient way to repair this type of damage.
The Trenchless Sewer Repair Process
Since we're a trenchless pipe repair expert that's also a certified NuFlow contractor, we use patented technology to make the sewer repair process even more efficient and reliable. We start with a sewer camera inspection to identify and document what's going on inside the sewer line. If trenchless repair is appropriate, the pipe is cleaned and a structural epoxy liner is inserted into the pipe. The end result from this patented process is a like-new, relined sewer pipe.
Benefits of Trenchless Sewer Repair and Replacement
A trenchless pipe restoration involves restoring a damaged sewer line from the inside. A durable coating is applied to the inside of the pipe in a way that covers flaws, improves structural integrity, and restores normal function to the affected sewer pipe.
The biggest perk is no additional surface restoration costs once your trenchless service provider completes the work. What's more, costs are further reduced since there's less labor needed, and mechanical digging equipment is used instead of heavy machinery. Even more importantly, trenchless repair adds many more years to a sewer line's usable life, further saving you time and money.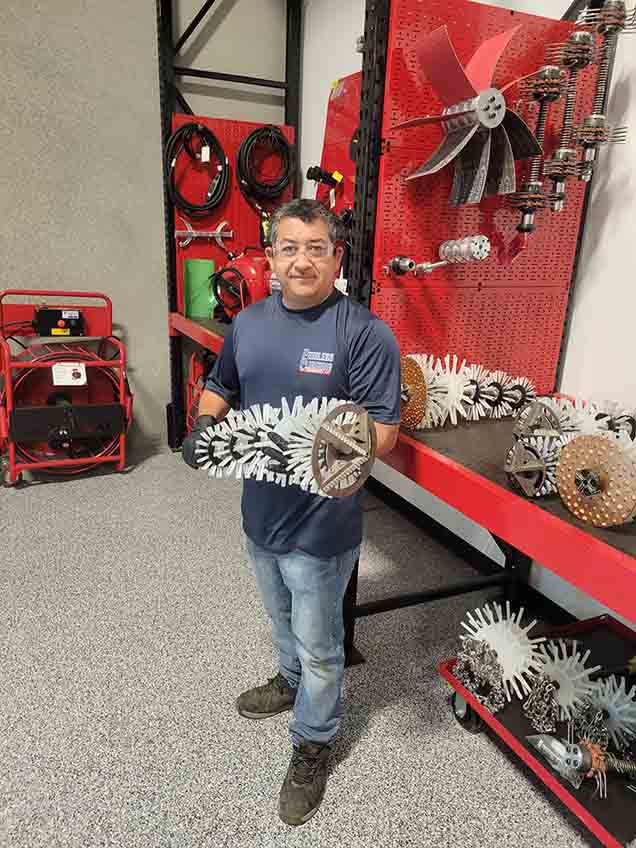 Signs You Need Trenchless Sewer Repair
A soggy lawn in certain spots is a telltale sign you'll likely benefit from trenchless services. Other signs suggesting it's time to give our local team a call include:
Frequently Asked Questions on Trenchless Sewer Repair
Get Results You Deserve Today
As a leading provider of sewer and drain lining in the local area, Peerless Plumbing Company and Nudrain Phoenix is ready to save you time and money. What's more, our no-dig approach to sewer repair offers long-term value and much-appreciated peace of mind. Contact us today to benefit from our non-disruptive services or fill out our online form to schedule an appointment for: