Superior Drain Cleaning in Mesa, AZ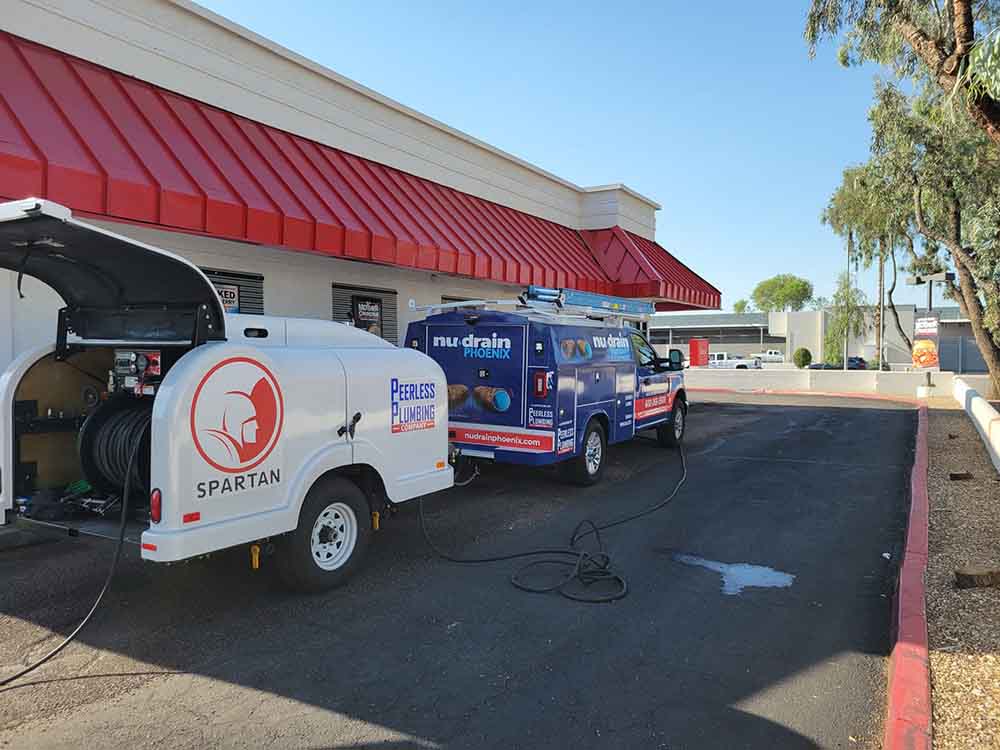 Peerless Plumbing Company provides the best in drain cleaning services in Mesa, AZ. Our team specializes in trenchless line cleaning and inspection, allowing our experts to renew and restore pipes deep within sewer systems without messy excavations that require extensive cleanups.
When you partner with our drain cleaning company, you receive on-time, reliable, and friendly plumbing services. We're dedicated to ensuring that the plumbing system of your home or business is operating at peak performance, and we know that you can't afford to let clogged, corroded, broken, or dirty sewer pipes slow you down.
Whether you're facing a clogged sewer drain, you suspect a leak, or you just want to be proactive and maintain your sewer system to avoid future problems, drain cleaning from Peerless Plumbing Company is the answer you've been looking for.
Common Causes of Clog Issues
Drain clogs can develop from a number of issues, including the inappropriate items that get flushed down drains.
Below are some of the most common causes of drain clogs:
Waste and debris
Tree root intrusion
Pipe scale and corrosive buildup
Damaged sewer pipes
The Importance of Professional and Regular Drain Cleaning
Having your drains cleaned and your sewer lines inspected are services that are vital to maintaining a clean home or business. Sewer problems only tend to get worse with time, and ignoring minor issues now could lead to big problems in the future. In fact, you may not even realize just how bad things have gotten until you're facing a damaging flood and dangerous bacteria-carrying sewer backup in your system.
What Are Some Signs That Your Drain May Be Clogged?
While some drain clogs are obvious, others may not be so easy to spot. But with due diligence, you can easily spot red flags that are tell-tale signs of burgeoning drain problems.
Below are some signs to watch out for that may indicate you're dealing with a clogged drain:
Water that drains slowly
Strange sounds coming from your pipes
Bubbling coming from draining water
Foul odors coming from your drains
The Drain Cleaning Process
The drain cleaning process always begins with a consultation to allow our team to learn more about your specific drain concerns. We can evaluate your pipes using advanced video line inspection and drain snaking, and we'll provide you with a report detailing what was found.
From there, our team uses specialized cleaning equipment to remove debris, buildup, and more to allow your pipes to remain free of obstructions. If we find causes for concern during the cleaning process, we'll bring these matters to your attention and offer you tangible plumbing solutions.
Why Choose Us For Drain Cleaning?
Peerless Plumbing Company has been the trusted partner in plumbing maintenance and drain cleaning in Mesa, AZ, metro area for 20 years. We're proud to represent the Mesa community, and our experienced sewer professionals always deliver the best in customer satisfaction.
Peerless Plumbing Company is committed to delivering thorough plumbing services, so whether you need line cleaning, repairs, video inspections, or even sewer replacements, you can be sure that we have the equipment and experience to give you the most value for your money.
Contact Peerless Plumbing Company for Drain Cleaning Solutions Today
Don't wait until you experience a drain clog to take action. Turn to Peerless Plumbing Company today superior drain cleaning and inspection services in Mesa, AZ. Schedule your appointment with us today!