The Top Name for Trenchless Sewer Repair in Scottsdale, AZ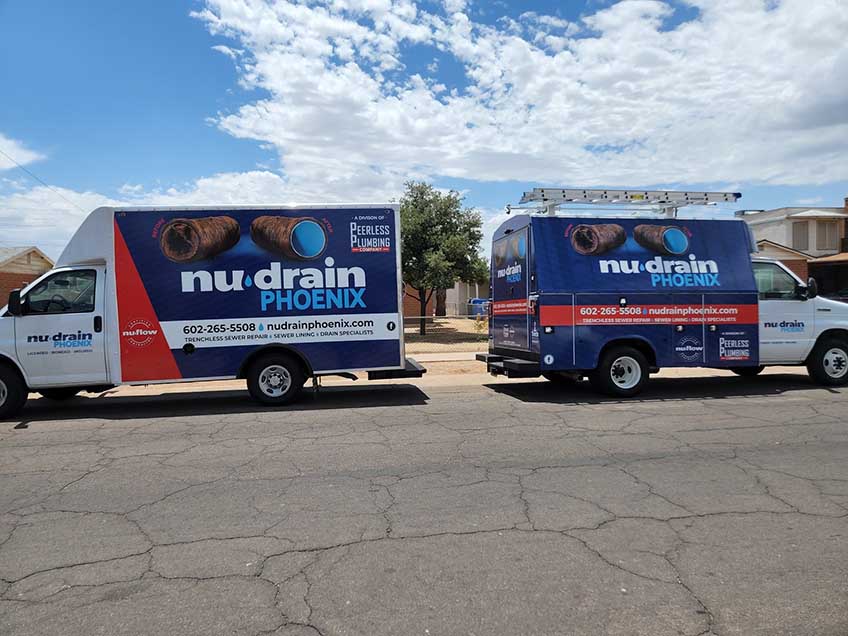 Clogged drains and sewer pipe problems got you worried? Peerless Plumbing Company and Nudrain Phoenix, your trusted trenchless contractor in Scottsdale, AZ, can solve these problems and restore your peace of mind. We achieve this by using the latest in repairs and cleaning technology.
Minimally invasive repair means no big messes, and most jobs can be completed quickly, even when involving the toughest of clogs or significant damage. Our trenchless company has what it takes to get the job done on time, every time.
A Closer Look at the Service
Trenchless sewer repair in Scottsdale, AZ, is a method of repairing and restoring clogged or damaged plumbing and sewer pipes. Unlike traditional methods that often require digging up your yard or breaking through concrete and pavement, trenchless technologies like NuDrain and video inspection allow our crew to access your pipes without the need for a lot of mess.
The repair process for damaged or clogged pipes in Scottsdale can vary based on the cause and location of the issue. Our experts utilize video inspection technology to scope sewer pipes and get an inside look at what's going on. From there, we can repair the damage simply by using drain snaking in some cases. Should it be more than just a clog, we may recommend trenchless pipe lining. Our goal is always to leave you with not only free-flowing pipes, but also plumbing pipes that won't clog again in the future. By removing obstructions and restoring the condition of your pipes, you'll face less risk for potential problems down the road.
Why Sewer Repairs Need to be Prompt
Anytime a sewer pipe experiences a clog or damage, the odds of flooding go up dramatically. Clogs may be slowing the flow of water drainage, but they can also totally obstruct water flow. In either case, backed-up drains can lead to pressure issues in your pipes and the potential for dangerous water pooling and backflow. On top of that, water that backs up from your sewer system can be full of germs and bacteria, potentially putting your health at risk. Even if you don't smell any bad odors, which is rare in sewer backups, your health may still be at risk. That's why it's vital to contact a professional sewer line repair company at the first sign of trouble.
Benefit from Our Minimally Invasive Solutions
Aside from being less messy and more convenient, trenchless pipe repair also:
Sewer issues in Scottsdale can vary, but some of the most common include:
We serve the entire state of Arizona, including:
Contact Your Scottsdale Trenchless Experts
For drain lining or other solutions, contact Peerless Plumbing Company and Nudrain Phoenix today. You can reach our team of plumbing experts online right now by calling us. You may also fill out the online form to schedule an appointment with our team. We also provide: