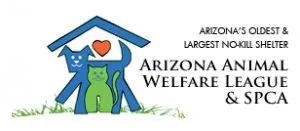 The Arizona Animal Welfare League & SPCA (AAWL & SPCA) is the largest and oldest no-kill shelter in Arizona. A "no-kill" shelter is an animal shelter that does not kill healthy or treatable animals even when the shelter is full, reserving euthanasia for terminally ill animals or those considered dangerous to public safety.
The AAWL is one of our favorite places to donate. We LOVE animals, we have 3 dogs and a cat in one house. Last year, we donated to the AAWL and sponsored the adoption of 19 dogs so they could get homes for Christmas. We were also Labrador sponsors for the Design for Dogs by Facings of America, where all proceeds went to benefit the AAWL.
We here at Peerless Plumbing Company and Nudrain Phoenix are fortunate to have customers like you, which is why we give back. Even if you weren't a customer of Peerless Plumbing Company and Nudrain Phoenix this year, we encourage you to donate. A little by many goes a long way!
A big thanks from our crew, Ruger, Kimber, Gracie and Charley!