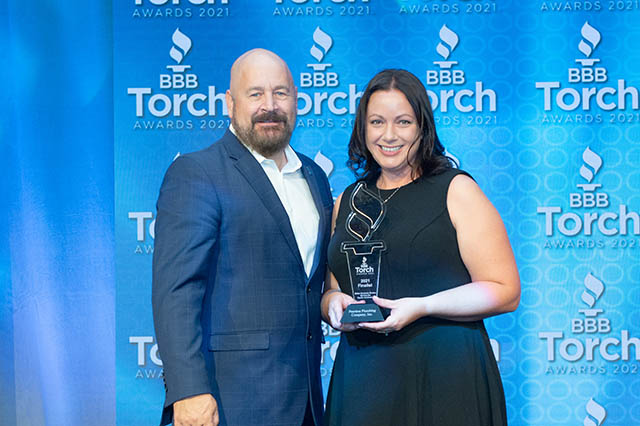 A properly functioning plumbing system ensures safety and convenience. While homeowners may not spend much time thinking about drains, our team at Peerless Plumbing Company does. Count on us for quality drain cleaning.
Company Overview
Christian Rushing took over the helm of Peerless Plumbing Company after completing his service with the Coast Guard. His father, Randy Rushing, worked in the industry and built the company from the ground up just as Christian quickly became a skilled expert in pipe restoration and repair. Christian continues to manage every project for the company, and he visits all worksites personally to ensure the quality of work and customer satisfaction.
Our Rise
In 2019, Peerless Plumbing Company was a three-person crew with one truck. Today, we have 12 employees and five trucks. This type of growth shows that we deliver great work and get plenty of word-of-mouth recommendations. We look forward to many more years of growth serving residents and business owners in Phoenix.
Our Main Services
We offer sewer camera inspections, which allow us to identify problems in drains and sewers. Our drain and sewer cleaning services remove all types of buildup and restore full functionality. We use hydro jetting and snaking for this process. Our trenchless sewer repairs restore damaged pipelines. With our holistic approach to service, it's no wonder we've quickly become the trusted company in the Valley of the Sun.
Why Choose Us
We perform fast, affordable, and non-disruptive solutions, ranging from drain and sewer cleaning and to drain lining. Each member of our team treats you and your property with respect. We arrive on time, provide you with a detailed estimate and explanation of service and clean the work area when we're finished.
Check Us Out On Facebook
Staying in touch with our customers and the community is important to us. Visit our Facebook page for updates about our team, services, and what we're doing to provide unmatched customer service. We also offer helpful tips on taking care of your sewer and drain system, so do make sure to bookmark our blog.
At Peerless Plumbing Company, you've got a dependable team for all your cleaning and pipe repair needs. Reach out to us today for more information!