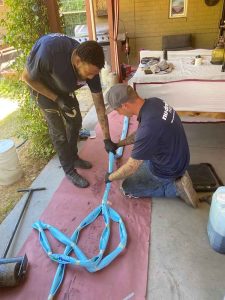 Trenchless pipe lining is a cutting-edge technology that has transformed how we approach pipe repairs. This method involves inserting a flexible, resin-coated tube into the existing damaged pipe and curing it in place. While trenchless pipe lining offers numerous advantages, it's essential to understand its limitations and whether it can eliminate all pipe issues.
Peerless Plumbing Company specializes in trenchless sewer repair in Phoenix, AZ. In this blog, we will explore the potential and boundaries of trenchless pipe lining, shedding light on its efficacy in addressing various plumbing problems.
Effective Repair for Minor to Moderate Damage
Trenchless pipe lining is highly effective for repairing minor to moderate issues such as cracks, leaks, and corrosion. This sewer line repair method provides a seamless and durable lining within the existing pipe, restoring its structural integrity. In such cases, trenchless pipe lining can eliminate the problems, offering a long-lasting solution without extensive excavation.
Challenges with Severely Damaged or Collapsed Pipes
When the existing pipe structure has completely collapsed or is severely compromised, trenchless sewer repair alone might not suffice. In such situations, excavation and replacement might be the only viable options.
Compatibility and Material Limitations
Another consideration is the compatibility of trenchless pipe lining materials with various pipe types. While it works well with most materials, there are limitations. For instance, certain materials or extreme pipe conditions may not be suitable for drain lining.
It's important to consult your trenchless pipe lining contractor for the most suitable pipe restoration method applicable to your situation. Needless to say, working with a professional who expertly determines the optimal solution for your pipes is crucial. Understanding the capabilities and limitations of trenchless pipe lining is also essential for making informed decisions and achieving successful repairs.
Don't hesitate to contact Peerless Plumbing Company for any questions you might have about the trenchless pipe lining process.