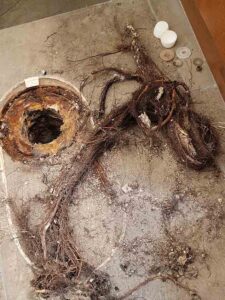 If not addressed promptly, drain issues can disrupt your daily routine and can even cause significant damage to your plumbing system. At Peerless Plumbing Company and NuDrain Phoenix, we utilize up-to-date technology when our trained technicians carry out professional drain cleaning in Phoenix, AZ.
We have various drain cleaning methods at our disposal, and we typically employ drain snaking to address the following issues.
Minor Clogs
Clogs form when debris, such as hair, grease, or foreign objects, accumulates around the drain, obstructing water from flowing through the drain pipe properly. Using a plunger or chemical drain cleaners may be sufficient to temporarily dislodge clogs, restoring drainage. However, if you're looking for a long-term solution, then drain snaking is the way to go.
Mineral Deposits and Scale Buildup
When hard water flows through pipes, minerals like calcium and magnesium can gradually accumulate on the inner surfaces, resulting in scale buildup and restricting the flow of water. Drain snaking can mitigate the damage caused by the mineral buildup in the pipes. The drain snake's drill features serrated edges and specialized attachments that effectively chip away at the mineral deposits. The drain snake's rotating motion helps break the mineral buildup apart.
It's important to seek professional drain cleaning services regardless of the type of clog you might encounter.
Got drain issues? We've got you covered. Contact Peerless Plumbing Company and NuDrain Phoenix today.