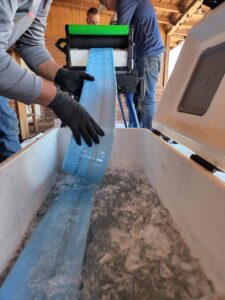 Trenchless pipe lining is widely recognized as one of the most efficient methods of repairing underground pipes due to its cost-effectiveness, quick turnaround time, and minimal interference to the surrounding environment. Peerless Plumbing Company and Nudrain Phoenix offers trenchless sewer repair in Phoenix, AZ, as a cutting-edge solution for repairing damaged underground pipes.
As mentioned, trenchless drain lining offers many advantages. But perhaps a crucial benefit of this particular pipe restoration offers long-term results.
Sturdy Materials
When you work with reputable trenchless pipe repair companies like Peerless Plumbing Company and Nudrain Phoenix, you can more or less be assured that the materials being used will be high quality and will last for a long time. Of course, a material's durability does not mean much if the process was not executed properly, which brings us back to the importance of hiring a good trenchless contractor.
Reinforces the Pipe's Structure
The trenchless sewer line repair process utilizes the structure of the affected pipe by forming a durable, seamless pipe-within-a-pipe. This effectively extends the lifespan of your damaged pipe by up to 50 years. You're essentially getting a new pipe, and you likely won't have to get new pipes installed during your time as a property owner, saving you from spending on another complete replacement or frequent, costly repairs.
Ensures Functionality
Since the trenchless pipe lining method provides a newer more efficient pipe, the flow and functionality of the pipes are also improved. Trenchless solutions address issues that could affect your pipes in the long run, such as corrosion and tree root invasion. You now have a pipe that's guaranteed to perform at an optimal level for many years to come, giving you less to worry about regarding longevity and future pipe restoration costs.
Trenchless sewer repairs may be preferable when long-term reliability is a priority. Contact Peerless Plumbing Company and Nudrain Phoenix to schedule a consultation and determine if this method is viable for your specific needs.