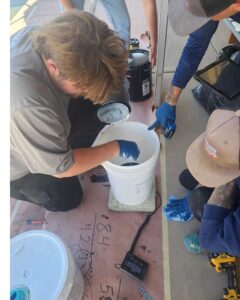 Just like any other plumbing component, pipe materials also have a lifespan. Knowing the lifespan of different pipe materials is vital to determining whether or not it's time to replace them. Discussing the lifespan of various pipe materials available will also allow you to make informed decisions about whether you can call for trenchless sewer repair in Scottsdale, AZ.
Peerless Plumbing Company and NuDrain Phoenix is proud to be an industry leader in services concerning trenchless pipe lining. The piping materials we use include;
Cast Iron Pipes
Cast iron pipes are renowned for their toughness and longevity. Their service life can reach up to 100 years. However, they grow more fragile with time. To ensure their longevity, regular examination and maintenance is required.
Galvanized Steel Pipes
These pipes are coated with zinc, effectively protecting against corrosion. They were primarily used in homes built before the 1960s and have an average lifespan of about 40 to 100 years. The great thing about galvanized pipes is that you can extend their lifespan further via trenchless pipe lining.
Copper Pipes
Copper pipes exhibit excellent corrosion resistance and have a lifespan of 50 to 70 years. These pipes are utilized for both residential, commercial, and even industrial applications.
PVC Pipes
Polyvinyl chloride (PVC) pipes are typically used in low-pressure plumbing systems. They are lightweight, inexpensive and have a lifespan of over 50 years. PVC pipes are resistant to corrosion. However, exposure to extreme temperatures, high pressures, and UV rays can shorten their lifespan. Luckily, PVC pipes can be restored through trenchless pipe repair services.
No matter what type of pipe material you have, our team of certified professional plumbers can help. Give us a call today!