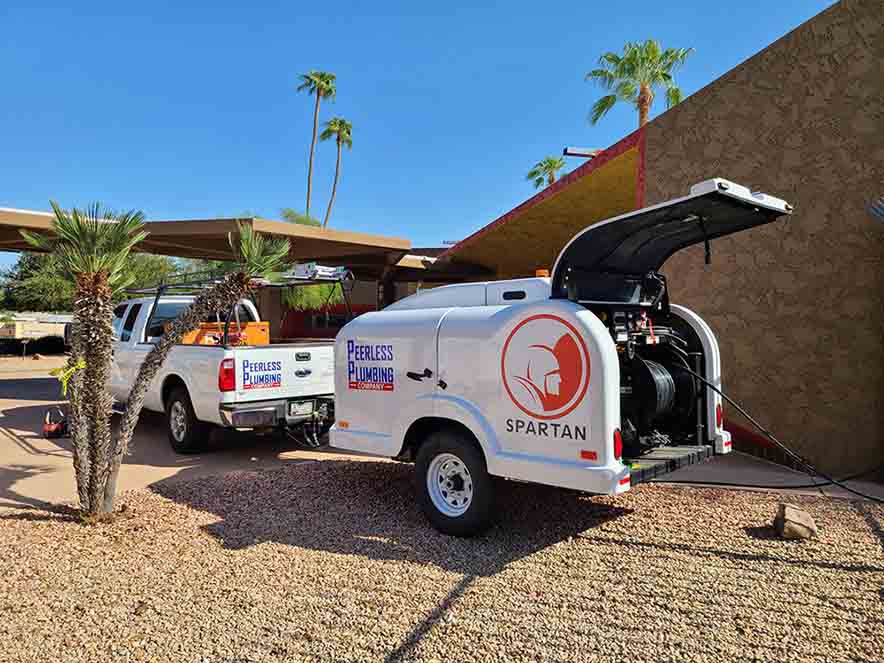 Clogged drains are one of the most common issues that homeowners face. However, just because they are common does not mean that they are any less stressful to deal with. Needless to say, don't hesitate to promptly reach out to Peerless Plumbing Company & NuDrain Phoenix for efficient drain cleaning in Sun City, AZ.
Leaving a clogged drain unattended for long periods of time can have detrimental effects on your plumbing.
The accumulation of debris forms a blockage, making it difficult for the wastewater to flow through the drain pipes properly, if at all. The added pressure puts excess and unnecessary strain on the drains. If timely drain cleaning services are not scheduled, the pipes get exposed to prolonged exertion and are more likely to deteriorate faster.
Severe clogs can often result in sewer backups, in which sewage or wastewater can eventually make its way back up into your home, causing serious damage to your plumbing system and creating unsanitary living conditions. Fortunately, Peerless Plumbing Company utilizes highly efficient drain cleaning methods, such as drain snaking, to address a wide variety of clogging problems.
When our drain cleaning company takes on any job, we make sure that we do not compromise the pipes while still being thorough and efficient. As such, you do not need to worry about further damage to your pipes.
When your drains are clogged, it's not just your plumbing that's in danger. The accumulation of wastewater can lead to the degradation of building materials such as drywall and wooden framing. In some cases, it can even weaken the foundation of the house, causing structural problems.
Our experienced technicians understand the advantages of unclogging drains in order to keep your entire piping and water supply system running smoothly. If you're experiencing any kind of plumbing issue and need drain cleaning services, our team will be more than happy to help you get your plumbing system back on track.
Contact us today to schedule an appointment.