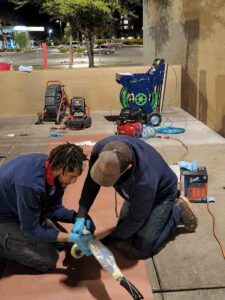 Clogged drains are a common problem that can disrupt daily routines and cause inconvenience. When a drain is clogged, it can lead to water backup, slow drainage, and foul odors, making it difficult to use sinks, toilets, and showers. Peerless Plumbing & Nudrain Phoenix is your trusted provider of trenchless sewer repair in Phoenix, AZ, and here are some ways a clogged drain can disrupt routines.
Inconvenience
A clogged drain can cause inconvenience, especially in households with many residents who need to use the same bathroom or kitchen sink. Slow drainage can delay morning routines, causing delays in getting ready for work or school. Waiting for the water to drain can take up precious time, leading to a rushed start to the day. Over time, the damage can get to the point where it warrants drain lining.
Hygiene
A clogged drain can lead to unsanitary conditions, as water and waste can go back into the sink or toilet. This can cause unpleasant smells and make it difficult to maintain hygiene standards. Water that doesn't drain properly can also create a breeding ground for bacteria and germs. Moreover, the sewer backup can damage the pipes that would require sewer line repair.
Damage to Property
A clogged drain can damage water, as water can back up and overflow onto floors and surfaces. This can cause damage to carpets, hardwood floors, and walls. If trenchless pipe repair is not done, water damage can result in mold growth, which can cause health issues for building occupants.
Plumbing Problems
Clogged drains can cause plumbing problems, as the blockage can pressure pipes, leading to leaks or bursts, resulting in not just disruptions to the routines but in damage that requires trenchless pipe lining to fix.
A clogged drain can disrupt daily routines in several ways, leading to inconvenience, hygiene problems, property damage, plumbing problems, and loss of productivity. It's important to address clogged drains promptly to avoid these disruptions and maintain a healthy and safe environment. Do not hesitate to contact Peerless Plumbing & Nudrain Phoenix for drain cleaning or drain repair.