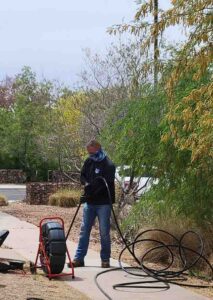 If you're experiencing sewer problems, a sewer inspection can help diagnose the issue. Peerless Plumbing Company and Nudrain Phoenix offer comprehensive sewer inspections to detect various problems. Using advanced technology and techniques, including trenchless sewer repair in Phoenix, AZ, our team can address your sewer without causing major disruptions to your property.
Blockages and Clogs
A sewer inspection can detect the source of the blockage, whether grease buildup, foreign objects, or other factors cause it. The frequency or likelihood of clogs aand blockages is significantly reduced when trenchless pipe repair is utilized on pipes after the drain cleaning. What makes this possible is a special liner that is inserted into the pipe, sealing the blockage and restoring optimal water flow.
Cracks or Fractures in Pipes
These can occur due to age, corrosion, or damage from external forces. If left unchecked, these cracks can lead to leaks and further damage to the pipes. Fortunately, trenchless pipe lining can be used to repair these cracks without excavation. This process involves inserting a flexible lining into the damaged pipe and curing it to create a new, durable surface. It is also a cost-effective and minimally invasive solution to repairing damaged pipes.
Corrosion or Deterioration
Over time, pipes can become damaged from exposure to the elements or chemical reactions from the wastewater. This can lead to leaks and sewage backups. To address this issue, professionals may recommend drain lining. This involves installing a new pipe inside the existing one, which helps to reinforce and protect the original pipe.
This can extend the life of the sewer system and prevent the need for costly and disruptive sewer line repair.
Regular sewer inspections can detect issues, from blockages to corrosion and deterioration. If you're experiencing sewer problems, contact Peerless Plumbing Company and Nudrain Phoenix for expert sewer line repair services. With their advanced technology and trenchless sewer repair, they can address any issues and help prevent future problems. Don't wait until it's too late; schedule your sewer inspection today.