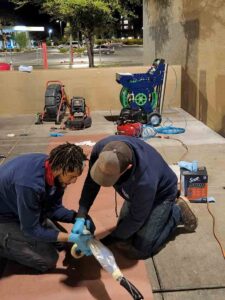 Trenchless repairs offer a cost-effective and efficient solution for fixing various underground infrastructure issues without the need for extensive excavation. Peerless Plumbing Company & Nudrain Phoenix offers trenchless sewer repair in Scottsdale, AZ that can help you save on added expenses.
Reduced Labor and Material Costs
Trenchless pipe repair requires less labor compared to traditional excavation methods. With no need for extensive digging, fewer workers are needed, reducing labor costs. Additionally, there's no requirement for costly materials like concrete or asphalt for repairing excavated areas.
Minimal Property Damage
Traditional trenching and excavation can cause significant damage to landscapes, driveways, sidewalks, and other structures. Trenchless pipe lining, on the other hand, only requires small access points, minimizing property damage.
Faster Repairs
Trenchless methods such as drain lining are generally faster than traditional excavation. With no need to dig trenches, the repair process is streamlined, allowing for quicker completion. Faster repairs mean less downtime for businesses and reduced inconvenience for homeowners.
Environmental Benefits
Trenchless repairs are more environmentally friendly compared to traditional methods. They reduce the amount of soil disruption, limit the risk of soil contamination, and minimize the disruption of natural habitats.
Long-Term Durability
Trenchless sewer line repair technologies often use advanced materials and techniques, resulting in durable and long-lasting pipes. This means fewer maintenance requirements and less frequent repair needs, saving money in the long run.
Trenchless repairs provide a cost-effective alternative to traditional excavation methods. They offer a faster, more durable, and environmentally friendly solution, reducing labor and material costs while minimizing property damage. When facing underground infrastructure issues, exploring trenchless repair options can lead to significant cost savings and long-term benefits.
Contact Peerless Plumbing & Nudrain Phoenix to learn more or to schedule an appointment.